Supporting Afghan Nationals: A Roundtable with Afghan Parliamentarians
Parliamentarians for Global Action Roundtable

'Supporting Afghan Nationals on the Ground and in Exile:
A conversation with Afghan Parliamentarian and their counterparts'
Remarks by the EU Special Representative for Human Rights, Eamon Gilmore
Monday, 30 May 2022
Thank you very much. It is a great pleasure to be here with you today and I would like to thank Parliamentarians for Global Action for organising this timely Roundtable.
As a former Member of Parliament myself, I am particularly honoured to be on this panel Members of Parliament Mariam Solaimankhil, MP Afghanistan, and Nazifa Yousufi Bek, MP Afghanistan, and Heather Barr, Human Rights Watch.
I was myself a Member of Parliament in my own country – Ireland for 30 years and it's a privilege to be here with Afghan and other parliamentarians.
Afghanistan continues to be a priority, notwithstanding the emergence of other crises, such as the war in Europe, prompted by the Russian invasion of Ukraine. I wish to assure that the EU has not, and will not, abandon(ed) the people of Afghanistan.
The humanitarian and human rights situation in Afghanistan is a major concern. The harsh policies of the Taliban hit hard on all democratic forces in the country.
The EU is deeply concerned about the documented regression of human, civil and political, economic and cultural rights, with violations of freedom of opinion and expression, and the right to peaceful assembly. Journalists, human rights defenders, LGBTI persons, minorities, and women and girls' activists and individuals associated with the former government are at particular risk.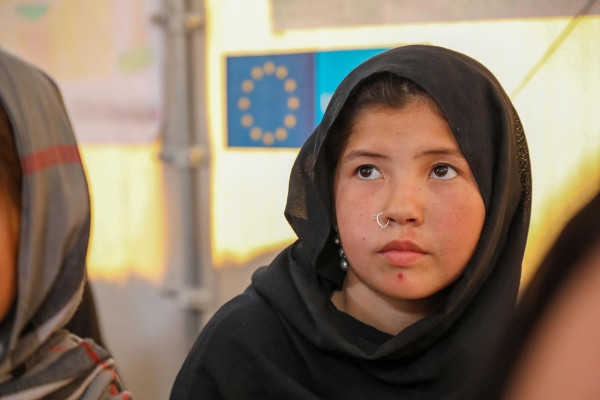 The shrinking space for women's rights, including the latest decisions by the Taliban on the restriction on clothing and mobility, isolating women even further to the homes, unable to participate on equal terms with men in Afghan society and increasing the risk of domestic violence and psychosocial trauma are of great concern.
The decision by the Taliban to deny secondary level education for Afghan girls was condemned by the EU and its member states, together with international partners. It is a blatant violation of the fundamental right to education for all children, which is enshrined in the Universal Declaration of Human Rights, and several international human rights instruments, of which Afghanistan is a state party. No religious or social reason could ever justify such unequal treatment.
It is also a reversal of the Taliban's public commitment to the Afghan people and it backtracks on their assurances given to the partners of Afghanistan, who worked hard to provide the necessary conditions so that all Afghans would be able to return to school at all levels for the new school year.
Religious and ethnic minorities are also experiencing exclusion; we are increasingly receiving reports of targeted violence and discrimination. The recent shocking attacks in Afghanistan, including on passenger vehicles in Mazar-e-Sharif and the mosque in Kabul, which have claimed the lives of numerous civilians, among them members of the Hazara Shia community and at least 16 children. The heinous attacks in April against educational facilities, mosques, attended by religious minorities, illustrate that the menace of terrorism is still very much present in Afghanistan.
Human rights are indivisible from the basic human need of living in peace and security. Those responsible for these heinous attacks must be held to account in a judiciary system that abides by the principles of rule of law and international standards. In addition, it is imperative to implement effective counter-terrorism policies to ensure that the threat of terrorism would be forever eradicated inside and from within the territory of Afghanistan.
From the early onset, the EU and its Member State have clearly stated that cooperation with any future Afghan government will be conditioned, among other things, on a peaceful and inclusive settlement and respect for the fundamental rights of all Afghans, including women, youth and persons belonging to minorities.
The EU's response is substantial. The 2022 funding will ensure critical relief assistance to the most vulnerable, including the victims of war, forced displacement and natural hazards. Interventions focus on providing emergency (i) health care, (ii) shelter, (iii) food assistance, (iv) access to clean water and sanitation facilities, as well as (v) various protection services targeting women and children.
Let me give you a few examples:
EU humanitarian assistance has been increased five-fold in 2021. The EU will continue to provide high levels of funding in 2022 to  ensure critical relief assistance to the most vulnerable.
At the pledging conference convened by UN Secretary General Guterres in March, the EU pledged EUR 113 million. The joint pledges by the EU and its Member States on this occasion reached 25% of the overall pledges.
The EU has reinforced support programme for Human Rights Defenders, creating a specific 'Afghan window' and a programme for support and advocacy in favour of Afghan civil society organisations.  Besides, the EU is helping some Afghan HR-defenders to ensure the safe passage and evacuation from the country.
We are also committed to continue support to freedom of expression including the media.
As we have said on many occasions, the EU does not recognise the Taliban. But has decided to continue engagement with the de facto authorities. The EU's Special Envoy for Afghanistan Tomas Niklasson has met with the Taliban de facto authorities in Oslo, Doha as well as in Kabul. In his engagements, he continues to push for the benchmarks established by the EU, specifically: Human rights, Safe passage, Full access for Humanitarian assistance, inclusive governance and guarantees on terrorism. Human rights, especially concerning women, girls and ethnic groups and minorities remain prominent in all his engagements. His visits to Kabul in March and May were used to push for the return of girls and boys to school at all levels, and to address the increased fear created by the Taliban through intimidations, continuous detentions and arbitrary abductions as well as to raise the need for dialogue and processes towards more inclusive governance.
He also does outreach to countries in the neighbourhood, and engages with the region and is prioritising meeting as full a range of Afghan society as possible, such as Afghan women, civil society organisations, journalists, and activists.
Together with the EU Ambassador for Gender and Diversity Stella Ronner-Grubačić, we have facilitated the Afghan Women Leaders Forum (AWLF). It has held two main gatherings, and a number of ad hoc virtual consultations. The latest meeting was two weeks ago and gathered almost 60 Afghan Women Leaders.
I have kept regular contact with the former Chair of the Afghan Independent Human Rights Commission Ms Shahrazad Akbar. I have to say I am alarmed by the reported decision of the Taliban to dissolve the Commission.
It is important to continue building a larger consensus at international level around the protection and promotion of human rights in Afghanistan.
A key challenge is a reliable monitoring of the human rights situation and particularly of women's and girls' rights, also in the provinces. These are specific tasks for UNAMA and the UN Special Rapporteur.
I welcome the strong human rights monitoring element for UNAMA's renewed mandate adopted by the UN Security Council in March.
It is important to mutually reinforce respective efforts, and I have met with recently UN Special Rapporteur, Richard Bennett. UNSR Bennett has just finished a visit to Afghanistan and issued a statement on Thursday of last week, where he stated: 'Afghanistan faces serious human rights challenges, and urged the de facto authorities to take the path that brings stability and freedom to all Afghans, especially women.'
The EU does not accept the violent overthrow of a constitutionally based government in Afghanistan by the Taliban. However, the Taliban by assuming power, has a responsibility to provide for the safety and security of all Afghan citizens, and respect and protect their human rights and fundamental freedoms. The EU will continue to hold the Taliban de facto authorities accountable for their commitments and for Afghanistan's obligations under international law.
Thank you for the opportunity to participate in this very important roundtable and I wish for the discussion to be a success.