Statement at the High Level Plenary of the EU-NGO Human Rights Forum
High Level Plenary of the EU-NGO Human Rights Forum

EU Special Representative for Human Rights, Eamon Gilmore
Statement
9 December 2020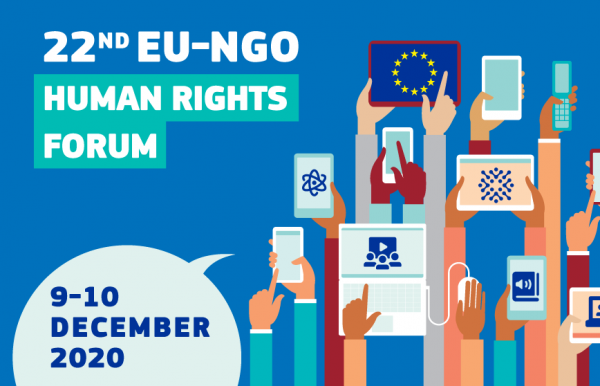 Madam High Commissioner (Dear Michelle), dear Ms Mogwe, dear civil society colleagues. I am pleased to be here with you at our annual EU-NGO Forum. It is always a pleasure to engage with partners who not only recognize the importance of human rights but who stand up for our rights, often in challenging and even life-threatening circumstances.
For the European Union, civil society is an indispensable partner in our policy making at home and in our external action worldwide.
Much has happened since the last Forum. This year, we meet online. We have lived through a tumultuous year of a global pandemic. Challenges to human rights, both offline and online, are today more multifaceted than ever.
Human rights defenders continue to be persecuted and silenced. Civil society organisations are stigmatized, shut down, or deprived of liberty to seek funding. In his opening message, High Representative Josep Borrell put face to these threats to civil society, mentioning Joshua Wong in Hong Kong, or the staff of the Egyptian Initiative for Personal Rights.
But when we speak up in defence of rights and freedoms, there is always hope. The EU has made diplomatic efforts since the arrests of Gasser Abdel Razek, the Director of the Egyptian Initiative for Personal Rights, and two other managers of the same organisation. We issued a public statement. I spoke with Assistant Foreign Minister of Egypt about the case last week. I welcome that all three are now released.
Today, the EU is also better equipped to tackle attacks on civil society. This Monday, our 27 Ministers approved the new Human Rights sanctions regime. Last month, I hosted the launch of the Action Plan on Human Rights and Democracy (2020-2024), the roadmap for our global human rights action, whose implementation I will be guiding.
The Action Plan recognizes the need to harness the potential of new technologies for human rights, the theme that we are discussing at this Forum. It is one of the five priorities we have set out for the next four years. I see the Forum as an excellent opportunity for the EU to collect, at this early stage, ideas from civil society how to bolster the enjoyment of human rights online and in our increasingly digital age. And more consultations with civil society on the overall implementation of the Action Plan will follow, namely our planned annual consultation starting in June next year.
An increasing part of our life today takes place online. There are around 4.6 billion internet users and 3.8 billion of regular social media users worldwide, with around 800,000 new internet users joining the cyberspace every day. The COVID-19 pandemic has further accelerated our digital connectivity as has the advance of Artificial Intelligence.
New technologies are empowering. It is harder than ever before for authorities and security forces across the world to crack down on peaceful protestors without notice and public outcry. In COVID-19 lockdowns, digital technologies have helped ensure the rights to education and work and they have kept families connected.
On the other hand, hundreds of millions of people in developing countries, and marginalized groups everywhere, still do not benefit from digital technologies. There are multiple digital gaps that we need to close; gaps based on gender, age, or income. Hundreds of millions of people have access to internet which is marred by censorship and mass digital surveillance. Equal access to an open, free and secure internet is still a global ambition, not everyday reality.
As we speak, new technologies are also used to curtail the enjoyment of human rights. Sadly, I am sure that we will hear many stories about this at the Forum. In some countries, the fight against COVID-19 has accelerated the perfection of systems of government surveillance that trample on the right to privacy and other human rights. These systems are likely to continue to be used beyond the pandemic management. Similarly, hate speech, cyber-harassment and fake news are spreading over social media platforms at an unprecedented speed. They often lead to hate crime and physical violence.
The EU leadership in shaping the digital sphere is critical for our global leadership on human rights and democracy. There is much to be done but we have a number of success stories to tell. For instance, the General Data Protection Regulation (GDPR) protects the data of EU citizens, affecting every single organisation that interacts with an EU resident regardless of where they may be. In partnership with major tech companies and social media platforms – Facebook, Twitter, Instagram, YouTube and others – the EU has been combatting illegal hate speech and disinformation online. The Commission is now working on new legislation on Artificial Intelligence grounded in a human rights-based approach.
New technologies have a global reach and affect everyone. Therefore, multilateralism is essential as is a multi-stakeholder approach. We need to identify common solutions at the global level by bringing together governments, civil society, individual human rights defenders, international organisations, academia, and businesses. The EU strongly supports the UN Secretary General Roadmap for Digital Cooperation, and the current efforts of the Human Rights Council to produce concrete recommendations on digital and human rights.
In closing, let me underline that digital technologies do not make human rights as we know them obsolete or in need of a radical overhaul. Similarly, the EU should not re-invent the diverse human rights tools at its disposal. We need to think how our existing toolbox could be best adapted in the digital world, how new technologies can make us more responsive and flexible in deploying the wealth of instruments at hand.
For human rights apply online as they have applied offline since the Universal Declaration of Human Rights. Challenges and opportunities abound but our mission is simple. The EU will shape a new digital world, a world where digital technologies bolster our rights and dignity, where digital technologies are human-centred and used responsibly.
I am looking forward to hearing many fresh ideas that will inform our external action in the digital age! Thank you.
More information on the event can be found here.