My November 2022 Newsletter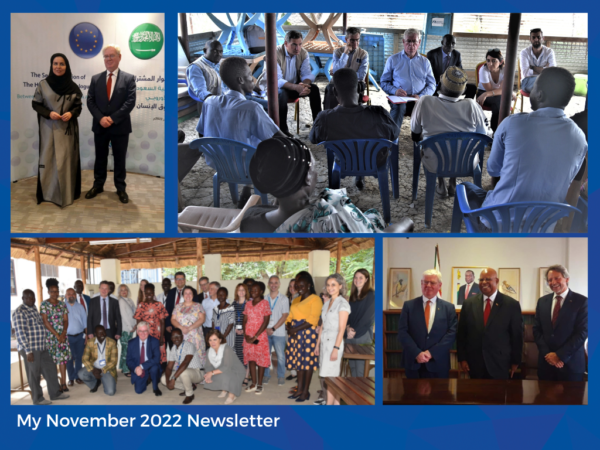 Saudi Arabia I co-chaired the second edition of the EU –Saudi Arabia Human Rights Dialogue held in Riyadh on 6 November 2022 alongside recently appointed head of the Saudi Human Rights Commission Dr. Hala al-Tuwaijiri. I raised concerns regarding the recent increase in executions; long sentences for activity on social media, and travel bans imposed on human rights defenders following their prison release. I acknowledged Saudi reforms, notably in the area of women's rights and the ongoing codification of the Penal Code, and encouraged their acceleration. During the visit, I also met with Minister of State for Foreign Affairs al-Jubeir and Vice-Minister of Foreign Affairs al-Khuraiji, Minister of Justice al-Samaani and the Deputy Chair of the Shura Council. Following the mission, on 29 November, I debriefed the European Parliament Subcommittee on Human Rights (DROI) on the main outcomes of the Dialogue. Read the press release here.
South Sudan On 21-23 November, I visited South Sudan. I met with First Vice-President Machar, Minister of Justice, Madol Arol Kachuol, Deputy Minister of Foreign Affairs and International Cooperation Deng Dau, Speaker of the Parliament Jemma Nunu Kumba. Additionally, I met with UN Special Representative for the Secretary General for South Sudan Nicholas Haysom, South Sudan Human Rights Commission, internally displaced persons, women, girls, boys and men living in Protection of Civilian camps in Malakal, representatives of academia, human rights defenders and civil society actors. I encouraged implementation of the Roadmap for the South Sudan peace agreement, respect for human rights and international humanitarian law and the opening of the political and civic space. In addition, I underlined that accountability for violations is crucial. Read the press release here.
Zimbabwe During a two-day visit on 24-25 November, I met with a wide range of interlocutors ahead of the electoral period next year in Zimbabwe. I held exchanges with Speaker of the National Assembly Jacob Francis Mudenda, Minister of Justice Ziyambi Ziyambi, Permanent Secretary at the MFA, Amb James Manzou, ZANU-PF acting Secretary for administration and party secretary for finance Patrick Chinamasa, Opposition Party Leader for the CCC Nelson Chamisa, and Chair of Zimbabwean Human Rights Commission, Dr Elasto Hilarious Mugwadi. I also met with civil society organisations (ahead of the mission as well as in Zimbabwe), human rights defenders, think tanks, and business representatives. Read the media coverage on a potential election observation mission.
African Union I delivered opening remarks (virtually) at the 3rd AU-EU Seminar entitled 'Effective Implementation of Transitional Justice Mechanisms: Challenges and Prospects in Africa and Europe'. On 29 November, I met again with African Union Commissioner Bankole ahead of the upcoming 18th AU-EU Human Rights Dialogue.
Ukraine I met with the President of Ukraine's Commissioner for Children, Daria Herasymchuk during her visit to Brussels on 28 November. She updated me about the forced deportations of children from Ukraine to Russia and the efforts being made to trace them. On 18 November, I spoke with a group of philanthropists at an online event 'Philanthropy for Ukraine', hosted by Philea, pointing out that, alongside buildings and infrastructure, we need to rebuild people's lives after the horrific violations being committed against them by Russia.
Armenia On 10 November, I met with Kristine Grigoryan, Ombudsperson of Armenia, in Brussels. We discussed the important work done by her office to protect human rights.
Russia I continued to meet with Russian CSOs and independent media who updated me about the human rights situation in the country and the realities of being forced to operate outside of Russia.
---
Receive this newsletter directly in your inbox by sending an email.
---
Afghanistan On 28 November, I met with lawyers who have left Afghanistan, and heard from them the huge difficulties now facing lawyers in the country.
Philippines On 18 November, I met again with Nobel Peace Prize laureate journalist Maria Ressa in Brussels to confirm my continued support for her work and to engage on the challenges faced by free and independent media worldwide.
Pakistan On 30 November, I met with the new Chair of the National Commission for Human Rights of Pakistan, Rabiya Javeri Agha. I expressed the EU's support for the work of the Commission. We discussed the new system of human rights courts in Pakistan, outstanding issues such as the death penalty and blasphemy laws as well as the need to advance on labour rights ahead of the assessment of the country's performance under the EU's regime of trade preferences (GSP+).
European Parliament At the European Parliament Conference on support to democracy worldwide on 30 November, I argued that we look at the countries between the two extremes of the democracy spectrum of liberal democracies and absolute autocracies. These are the mix of countries with a burden of a dictatorial past or recently transitioned countries at a tipping point – those who are not yet "perfect" democracies.
Death Penalty: I travelled to Berlin to speak at the 8th World Congress Against the Death Penalty where I reiterated "no country should have the licence to kill its own people and that the EU will not stop until the death penalty is abolished once and for all." I was saddened to learn of the executions that took place in Kuwait and Saudi Arabia in the same week of the World Congress.
"No exceptions, no exemptions." – My remarks at the 8th World Congress Against the Death Penalty in Berlin
Children's rights I delivered a keynote address (by video) for the International Conference on "Children in Armed Conflict: How can they be protected in a multilevel international framework", organised in Luxembourg on 21-22 November 2022 by the Universities Network for Children in Armed Conflict and UNESCO Chair in Human Rights at the University of Luxembourg.
Human Rights Training I delivered a video message to the human rights focal points in EU Delegations during a training seminar on human rights in EU external relations.
Human Rights Defenders and Civil Society On 29 November, I participated in a closed door strategy meeting on the Human Rights Defender initiative led by Front Line Defenders and Members of the European Parliament. The following day I exchanged views with the President of Committee to Protect Journalists, Jodie Ginsberg on the protection of journalists, freedom of media and specific cases of detained journalists.
I also held meetings with civil society organisations in advance of the Human Rights Dialogues with Saudi Arabia, my visits to South Sudan and Zimbabwe, and in preparation for the upcoming Dialogue with the African Union.
Upcoming in December (subject to changes)
| | |
| --- | --- |
| 10 December | Human Rights Day |
| 14-15 November | Opening address to the 24th EU-NGO Human Rights Forum |
| Week of 5 December | Mission to Colombia |
---
Receive this newsletter directly in your inbox by sending an email.
---