Meeting of the EU Network of National Rapporteurs and Equivalent Mechanisms on trafficking in human beings
EUSR for Human Rights, Eamon Gilmore
Meeting of the EU Network of National Rapporteurs and Equivalent Mechanisms on trafficking in human beings
Brussels, 25 April 2023
Keynote address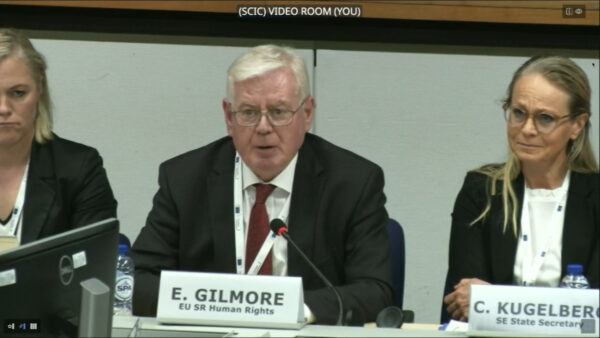 Watch the video recording here (from 15:00:29 to 15:10:05)
Transcript:
"Thank you, thank you [Anti-Trafficking Coordinator] Diane, Commissioner [Ylva] Johansson, State Secretary [Charlotte] Kugelberg, and member of the European Parliament, [Maria] Ramos. It is a great privilege to join with you this meeting today. And I want to thank Diane for the invitation to participate.
As we have heard, human trafficking is a criminal phenomenon, and indeed one of the most lucrative of criminal activities. But, it is above all, a human rights issue. Because traffickers deprive their victims of their human dignity, they trade them as goods for profit, and they often prey on the most vulnerable, people who are escaping poverty and conflict. And the victims, of course, endure various forms of sexual exploitation, forced labour and slavery.
The first point that I want to make about it, is the scale of the problem. As we have heard, about 7,000 victims of trafficking in human beings are identified each year in the European Union, almost half of those are from outside the European Union. Worldwide, about 47,000 human trafficking victims were detected and reported in the latest Global Report on Trafficking in Persons by the United Nations Office on Drugs and Crime (UNODC).
However, a large number of cases go undetected and the real numbers are much, much higher. If one takes the International Labour Organisation (ILO) estimate, there were about 50 million people in the world who were living in modern slavery in 2021, of which around 28 million were in forced labour, and about 22 million in forced marriage. I think it is safe to infer that human trafficking played a large part in leading many of those people into enslavement.
I want to talk a little bit about [how we address human trafficking internationally], because previous speakers have spoken a lot about what we are doing internally to address the issue of trafficking. But I want to talk about it, because my mandate is external, it is in the foreign policy of the European Union.
And the first point that I want to make about that, is that I think we need to deal with human trafficking as a human rights issue, both in our domestic action involving judicial and law enforcement authorities, but also in our foreign policy engagements. And for that, I think a "Team Europe" approach is needed, here as it is in other areas. And this meeting, bringing together Member States, EU institutions, and international organisations, I think is showing that a joint-up action is acknowledged.
In the external action, we need to strive to mobilise all of our instruments as well as our political efforts to make sure that they are in sync with our action at domestic level. In doing that, if one takes for example, the Russian aggression against Ukraine, where the European Union has provided refuge to several million Ukrainians. And we have already heard about the efforts that were made at an early stage of that conflict to address human trafficking. But I think we also have to look at the situation and the extent to which Moscow has forcibly deported, or trafficked, Ukrainian children from its occupied areas of Ukraine to Russia. And this is a topic, for example, that I will address tomorrow in the Human Rights Dialogue that the European Union will hold with Ukraine and in which I will participate.
The second area that I think we need to give attention to, is the integration of the issue of human trafficking into the big external policy strategies that the European Union has. I am thinking of the Action Plan on Human Rights and Democracy (2020-2024), for which I have particular responsibilities to guide its implementation. I am thinking of the EU Strategy on Combatting Trafficking in Human Beings (2021-2025), or the Action Plan on Gender Equality and Women's Empowerment in External Action (GAP III, 2021-2025), and the Human Rights Guidelines for the Promotion and Protection of the Rights of the Child. And I think we need to look at getting a greater degree of coherence in these strategies, and their implementation, to address the issue of human trafficking.
Another point that I would make is in relation to the recourses that we have available for doing this. And I think in particular we need to look at the important responsibilities and the role that the European Union Delegations, and the embassies of Member States, in countries around the world can play. When you look at it, the European Union and its Member States together have the most extensive diplomatic network in the world, and we should fully exploit this to address this issue.
One way of doing that is, for example, through the Human Rights Dialogues that we have with more than 60 countries around the world. And this issue of human trafficking is increasingly featuring in those dialogues, it is featuring together with issues relating to migration, relating to labour rights, relating also the human rights dimensions of the trade agreements that we have with countries around the world, and the systems of trade preferences that we have.
In the last few weeks alone, I have discussed this issue on [my] country visit to the Philippines. Last week, I discussed it on country visits in Central Asia. I had a very interesting discussion with civil society organisations in Turkmenistan, where those civil society organisations told me of the work that they are doing to identify the problem, to follow it through, but also to provide support to those who have been trafficked when they returned to the country. And in the next few weeks, I will be in Mexico, in Colombia, and in other countries, where [human trafficking] is an issue.
And the one thing that I am seeing, and a lot of the work that I do as the EU Special Representative for Human Rights, talking with countries outside of the European Union, is that there are many human rights issues where we don't get a great deal of traction, where there isn't a great deal of willingness to cooperate with us or work with us on human rights problems. [Addressing human trafficking] is an area in which there is no difficulty in getting cooperation from countries around the world. I cannot think of any country with which I have engaged over the past number of years, where there has been a reluctance to talk about the issue of human trafficking, to identity it as a problem. And I think there is a hunger among our partner countries to work with us and to see how this issue can be tackled.
And the final point that I would make is that I think we should also see where we can extend the partnerships for working on this issue. And I think one of the areas to which I think we can look at is the private sector, business who are showing an increasing willingness to cooperate with us on, for example, the new legislation tackling forced labour, and the new legislation to provide for due diligence in supply chains. And I think that that willingness to work with us on those issues, I think can be extended to working with us on this issue [of human trafficking] as well.
So, I want to conclude again by saying how pleased I am to have the opportunity of participating in this meeting. And how I think there is a willingness in the external action service to work with DG HOME, and to work with other parts of our institutions, and to work with Member States, and with the international organisations, in dealing with this criminal activity and to protect the human rights of those who are the victims of human trafficking."