Belarus: Next steps toward accountability at the Human Rights Council
Pre-recorded speech delivered by Eamon Gilmore, EU Special Representative for Human Rights at the UN Human Rights Council 49 side event 
Excellences, ladies and gentlemen,
It is my pleasure to join you virtually today for this important discussion on the next steps towards ensuring accountability for human rights violations committed in Belarus since the 1st of May 2020, and to deliver opening remarks alongside H.E. Gabrielius Landsbergis, Minister of Foreign Affairs of Lithuania.
Ladies and gentlemen,
We have all bore witness to the Lukashenko regime's continued widespread human rights violations and its brutal repression against all segments of the Belarusian society. Independent voices in the country have been silenced such as the one of Uladimir Matskevich, a detained Belarusian philosopher and activist, whose recent hunger strike I followed with great concern. In an interview he gave last year in writing from behind the bars, Uladzimir Matskevich said:  "I understand that I was arrested because of my articles, statements, ideas, and thoughts, that is, I'm going to be tried for "malice" according to Orwell."
Prominent representatives of the opposition have been condemned to harsh and long prison sentences in political trials conducted behind closed doors. Detainees have been subjected to abuse and ill-treatment. Robust evidence suggests widespread and systematic patterns of torture and inhumane conditions of detention, including gender-based violence.  There are now more than one thousand political prisoners in the country, up from 170 by the end of 2020, and this number continues to rise at an alarming rate.
As part of a large-scale crackdown on civil society, over 550 civil society organisations have been closed down, or are in the process of forced liquidation.
As of mid-February, at least 33 journalists and media workers remain in detention. Independent media has been almost eradicated, and any independent political activity is criminalised by legislation and suppressed by security forces.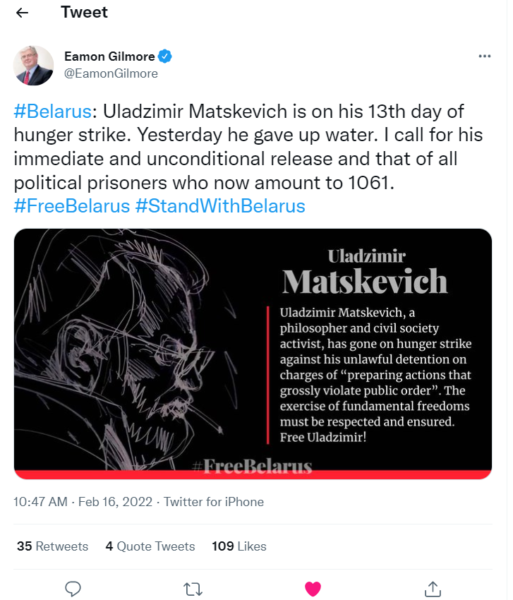 Let me assure you, the human rights situation in Belarus remains on top of our agenda in the EU and here in Geneva. The EU continues to call for the immediate and unconditional release of all political prisoners, and we do our best to bring the dire conditions of detention to the attention of the authorities through the interventions of our Delegation in Minsk. I have recently joined the public diplomacy efforts of our EU Delegation in Minsk by launching a social media campaign to highlight the fate of individual political prisoners in Belarus, in particular the lesser known ones.
We must, and we will, continue to work for justice for victims and accountability for perpetrators. Therefore, it is a high priority for the EU at the upcoming Human Rights Council session to achieve the extension of the mandate of the High Commissioner to continue in-depth scrutiny of the human rights violations. This accountability mechanism only started working effectively late last autumn – we need to allow this work to continue and to enable the mechanism to produce further detailed reports.
The efforts here in Geneva on the accountability mechanism are complementary to activities in other fora. The activation of the OSCE Moscow mechanism led to a report that documents human rights violations, including systematic use of torture. While following up on the recommendations contained in this report, 19 States agreed to launch an international accountability platform for Belarus. The EU strongly supports this initiative, both politically and financially. The EU also supported the launch of the OSCE Vienna Mechanism in November 2021, resulting in a request to Belarus to provide answers to questions concerning torture, persecution of government critics, or the usage of state controlled media or social media accounts to incite violence. Belarus must adhere to its international commitments and obligations within the UN and the OSCE.
Let me be very clear on this, we are determined to continue to work for justice for victims and accountability for perpetrators of the human rights violations in Belarus.
I am sure that this event today will contribute to preparing the next steps in this endeavour.
Thank you.