24th EU-NGO Human Rights Forum 2022
24th EU-NGO Human Rights Forum 2022
'Stop impunity: The road to accountability and justice. Human Rights in Crisis and Conflict'
Opening Remarks (Day 2) by the EU Special Representative for Human Rights, Eamon Gilmore
15 December 2022
Watch the recording here (from 32.50 to 1.00.15)
Good morning everyone. It is great to be with you again today. This Forum I think has always been the standout moment for us in each year to meet and to discuss the most pressing human rights issues on our shared agenda. And, as I said yesterday, I am delighted that we are able to do so in person. And I know it is going very well so far.
This year's focus on stopping impunity and building the road to accountability and justice is a topic whose moment has come. Today, accountability dominates political discourse and all of our work.
Yesterday morning, the HR/VP [Josep Borrell] painted a vivid picture of the global challenges we all face in human rights and democracy, as well as lack of respect for international humanitarian law. He spoke of the need for accountability for the war crimes being committed around the world; in Tigray in Ethiopia, in Afghanistan, in Myanmar, in Palestine and of course in Ukraine and in many more.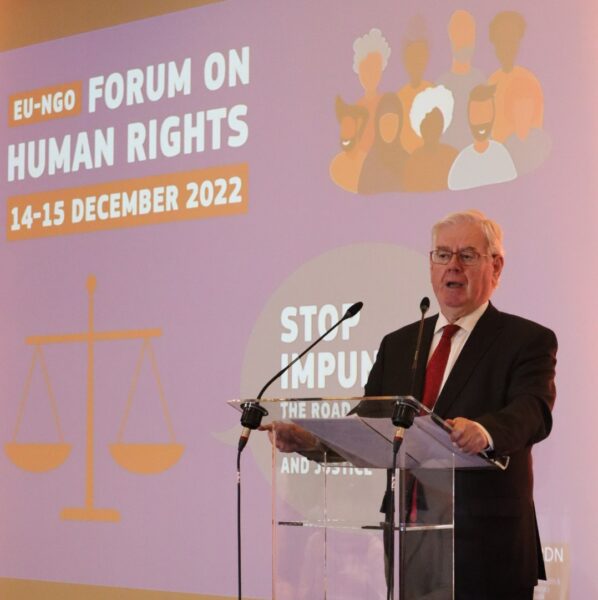 When I think about accountability, I think firstly of incredibly brave people and their families that I meet in the course of my work around the world. People like Kakwenza Rukirabashaija, a Ugandan writer-in-exile who was tortured in prison. He now fears for his life if he returns to Uganda.
I think of Olena Yuzvak, a doctor from Hostomel, a city in the outskirts of Kyiv. Olena told me how she, her husband, and their son were captured and tortured by Russian soldiers; plastic bags were put over their heads to half suffocate them and her husband was shot in the knee. But while she and her husband were eventually freed, their son Dmytro was not. That was nine months ago. She does not know where he is, or even if he is alive.
I think of Leyner Palacios, who lost 32 family members in May 2002 in Bojayá in Colombia when a cylinder bomb was fired by the FARC into a church. And in that church, there were 500 people sheltering from clashes between the FARC and paramilitaries. 79 people were killed by that bomb. Leyner went on to be a member of the Colombian Truth Commission.
I think of Narges Mohammadi who is in prison in Iran for her human rights work. She has not been allowed to speak to her children for over a year and has not seen them in seven years.
Accountability and justice for all of these people, and many more, is vital. Human rights are not something to be granted by the few to the many, nor are they imposed or earned. They are part of all of us and are at the heart of our humanity. No one can give you rights, but they can certainly take them away.
Sometimes, when we thing about the many human rights and humanitarian crises in the world today, when we survey the atrocities being committed in conflicts on every continent, and when we reflect on the scale of the brutality; the effect can sometimes be overwhelming. It sometimes feels that the perpetrators can do anything they like, because they get away with it. And it is certainly true that we have been living through an age of impunity. But I believe that the era of impunity is coming to an end, and I hope we are about to enter a new age of accountability. And that's what I want to talk with you about this morning.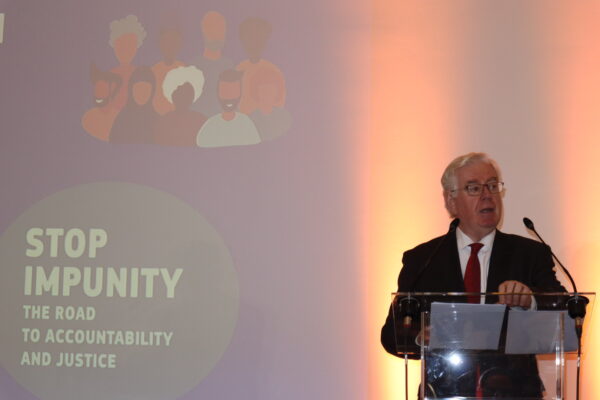 Let me tell you why.
Firstly, there is a renewed focus on accountability. This Forum is a case in point. Accountability is the cornerstone of human rights. It is critical to the relationship between States as duty bearers and individuals as rights holders affected by their actions. Accountability carries with it the obligation of those in power to take responsibility for their actions, to answer for them to those affected, and to be subject to some form of enforceable sanction if their conduct or explanation is found wanting.
There have to be consequences. When there are none, impunity festers, which results in violations occurring, over and over again. Rights cannot be fully respected, protected or fulfilled unless there is accountability.
Secondly, the International Criminal Court has renewed its purpose, and its practical relevance. When we last met in person three years ago, the ICC was undergoing an existential crisis. Some countries were threatening to leave; the U.S. was imposing sanctions on its officials. But the EU strongly defended the ICC, particularly its independence and importance. Today, the ICC is stronger than ever and this year, is celebrating 20 years of helping States to advance and achieve justice. The ICC has helped numerous States to develop their domestic systems and capacities, in order to deal with atrocity crimes at home.
But more needs to be done and this will require more resources to enable the Court to exercise jurisdiction over all four crimes under the Rome Statute. But we must also find a way to enable the Security Council to refer cases to the ICC.
Thirdly, I believe that we are in a moment of great mobilisation and momentum on accountability. The ICC was ready within days to launch an investigation into Russia's invasion of Ukraine. There has been, I think, an unprecedented mobilisation for accountability in Ukraine.
We support the Ukrainian authorities as a first responder to achieve accountability. We assist the Office of the Prosecutor General by providing training, expertise and equipment through our EU Delegation and our EU Advisory Mission to Ukraine. We have provided additional financial support to strengthen the investigation capacities of the ICC, which will support all ICC investigations. The EU has also changed the legal basis of Eurojust to enable Eurojust to preserve, analyse and store evidence relating to core international crimes. Through Eurojust, the EU is also supporting a Joint Investigation Team established by Ukraine and EU Member States to facilitate the collection and sharing of evidence on international crimes to strengthen national investigations and prosecutions.
We need now to capitalise on this extraordinary moment for international criminal justice and to make the 'Ukraine momentum' a standard for fighting impunity in other parts of the world. The credibility of the criminal justice system as a whole hinges on this. As Martin Luther King once said: "Injustice anywhere is a threat to justice everywhere. We are caught in an inescapable network of mutuality, tied in a single garment of destiny. Whatever affects one directly, affects all indirectly." 
In Ukraine, we have a seen a massive, coordinated effort to ensure that the evidence is available for future cases. But this is happening elsewhere too. For example, evidence collected and preserved by the IIIM and UNITAD is helping to bring some of those responsible for the most heinous crimes in Syria and Iraq to justice.
The fourth reason that I believe we are entering into an age of accountability is because of technology. Developments in digitalisation have made it almost impossible for violators of human rights and international humanitarian law to hide themselves or their crimes. Even in the most repressive of societies, mobile phones can record what is happening, and satellite imagery can provide an early warning system of violations and atrocities, focusing attention on what is really happening on the ground.
Even when evidence is destroyed and people are silenced forever, accountability can still be achieved. Forensic technology is advancing all the time. When I visited the International Commission for Missing Persons in The Hague a couple of years ago, I remember how they explained how they had managed to identify a man decades later, who had been killed in Srebrenica. They did this through DNA analysis, even though his remains were re-buried in at least 18 different locations. This is hugely important to the families of victims, as well as for the prosecution of crimes.
The fifth reason is that other actors are also leading the way in advancing accountability, notably the private sector. Businesses and companies are increasingly playing, and indeed, are expected to play, a critical role in the promotion and protection of human rights. And we saw companies play an important leadership role in reaction to the invasion of Ukraine, with several high profile investors halting operations in Russia in response to that aggression.
In February this year, the European Commission adopted a legislative proposal for a Directive on corporate sustainability due diligence. This will require companies operating in the EU market to identify and address the human rights and environmental impacts of their operations and value chains. The new rules will bring benefits for consumers, investors and businesses, through legal certainty and a level playing field. And, ultimately, these new rules will enhance accountability.
All of this is reflected in the EU Action Plan on Human Rights and Democracy, which was agreed unanimously by all of our 27 member states. It is the principle vehicle for the work of the European Union on human rights and democracy around the world. The Plan has a strong focus on closing the accountability gap, fighting impunity and supporting transitional justice. This applies at bilateral and multilateral levels. One of the primary tools produced by the Action Plan in this area is the Global Human Rights Sanctions regime, and last year was the first year of its operation. And, as you know, the European Union has already adopted restrictive measures targeting persons and entities in a number of countries.
The sixth reason is the use of the principle of universal jurisdiction, which means that individuals can be prosecuted for crimes against humanity, war crimes, genocide, and torture, no matter where those crimes took place. And we have seen this being exercised in several high profile cases.
All of this means that in this new age, it will be harder to hide a war crime, harder to conceal an atrocity, and more difficult to destroy evidence of violations of human rights and international humanitarian law.
The perpetrators of an atrocity anywhere in the world today, the commander who oversaw the atrocity and the political leader who authorised it, can never ever feel free again. They will carry their crimes with them forever. They can never again walk through an international airport, without running the risk of arrest, on foot of a warrant from the ICC, or from a Special Tribunal or from the prosecution of an individual country exercising universal jurisdiction.
The perpetrators of an atrocity can never feel free sending a child to a school or university in a country that has imposed sanctions like under the EU Global Human Rights Sanctions regime. And even if the perpetrators feel these freedoms do not matter, that they are never going to leave their country anyway, they can never feel safe even from their own autocrats, who will readily sacrifice them, if the evidence of their crimes emerges in the public domain. And the autocrats themselves, can also be dispatched to The Hague to face their accusers if, as it sometimes happens, the regime is changed.
Human rights defenders and civil society are essential partners in all of these efforts. And support to both defenders and civil society is central to the work of the European Union. The HR/VP [Josep Borrell] mentioned some of the ways we provide support in his remarks yesterday. Let me assure you that every day, the 140 EU Delegations that we have in countries around the world, together with the embassies of our 27 Member States, are working with human rights defenders and with civil society organisations; providing and communicating EU support.
This is not just financial and practical support. We also provide political support through the engagement that we have with different countries, through our Human Rights Dialogues with more than 60 countries and regional organisations, and through our political engagements.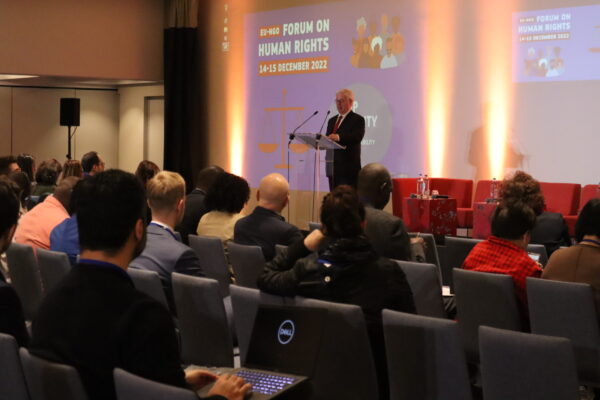 Next year, it is 75 years since the Universal Declaration of Human Rights. This will be an important moment to reflect on where we are, what we need to do and how we can do it better together. And above all, to celebrate the Declaration.
The Universal Declaration was born out of conflict, out of a "disregard and contempt for human rights [that] have resulted in barbarous acts which have outraged the conscience of mankind". It is our common language of our shared humanity. It imagines the world as it should be. But the barbarous acts are still with us today.
I believe that we are turning a corner, from the era of impunity to an age of accountability. This is not some idle hope or misplaced optimism. The Irish Nobel prize winning poet, Seamus Heaney, paraphrasing Václav Havel, once said: "Hope is not optimism, which expects things to turn out well, but something rooted in the conviction that there is good worth working for."
Thank you very much.