Keynote Address at the EU Delegation in New York's event "Political Prisoners in Belarus: the Perspective of Civil Society "
"Political Prisoners in Belarus: the Perspective of Civil Society "
EU Special Representative for Human Rights, Eamon Gilmore
Keynote Address
2 December 2020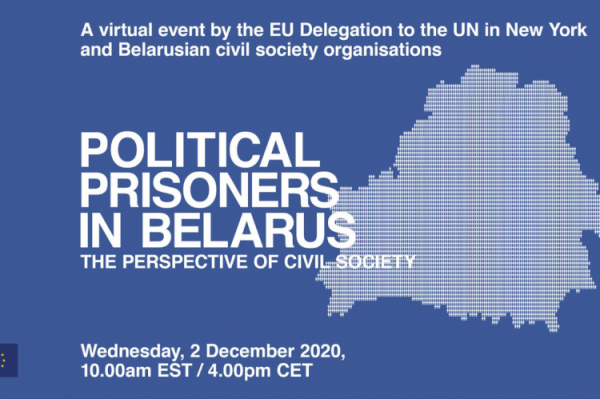 Good morning everyone. It is a great honour to be with you all today.
I wish to thank Ambassador Olof Skoog and our colleagues at the EU Delegation to the UN in New York and Belarusian civil society organisations for organising today's important and timely event and for inviting me to speak here.
Recently, I had the privilege to meet virtually with Mr Valiantsin Stefanovic, from the Minsk-based Belarussian human rights organisation, Viasna, and it is pleasure to meet him again and other prominent representatives of the Belarussian civil society, today.
Your excellences, ladies and gentlemen,
We have witnessed an unprecedented level of repression and violence over the last four months in Belarus.
And it is still continuing. And it is absolutely unacceptable.
It is clear that the election in August was neither free nor fair, and Alexandr Lukashenko has no democratic legitimacy.
The Belarusian authorities have neither engaged in national dialogue, nor accepted international offers of mediation and the political and human rights situation continues to deteriorate.
Political repression, harassment, violent suppression and intimidation of peaceful demonstrators, political opponents, journalists independent bloggers, students, medical workers, employees of the  factories as well as representatives of civil society and human rights defenders have continued.
We all know what has happened during the last four months:
According to Belarusian human rights defenders and in line with the assessment of EU and Member States Diplomats on the ground, more than 30 000 people have been arrested. These are politically-motivated detentions.
At least 500 cases of torture have been documented and 4 persons were killed – latest one was the brutal killing of Raman Bandarenka on 12 November.
Unprecedented pressure on independent media continues, and there have been more than 390 detentions of journalists since August 2020 (The Belarussian association of journalist).
They were arrested and prosecuted simply for exercising their rights to freedom of expression and peaceful assembly.
Criminal prosecution of citizens, on politically motivated charges is one of the main types of repression used by the Belarusian authorities during the election and post-election period.
According to the Minsk-based human rights organisation, Viasna, there are currently 144 political prisoners in Belarus.
According to human rights defenders, all these men and women were detained and are prosecuted for political reasons, in violation of their fundamental rights.
The EU recognises the existence of political prisoners in Belarus and we call for their release. And we very concerned about their conditions in prisons.
The political prisoners in Belarus come from the wide strata of Belarussian society.
Some were detained even before the election. Presidential contenders were detained and presented with politically motivated multiple criminal charges, such as the former CEO of Belgazprombank Viktar Babaryka and blogger Siarhei Tsikhanouski – both in the meantime declared political prisoners by Viasna and also recognized as such by the EU.
Another case in point is Maria Kolesnikova, member of the Presidium of the Coordination Council, who is also held as a prisoner.
There are numerous other examples of peaceful protestors, who are facing long prison sentences – for example Minsk residents Marya Babovich and Dzianis Hrakhanau are facing up to 10 years in prison for painting the phrase "We Will Not Forget" on a sidewalk ,near the Pushkinskaya metro station.
The OSCE report drafted under the Moscow mechanism clearly demonstrates, that there is an increasing number of political prisoners resulting from the crackdown following the falsified election.
As we speak, the situation continues to deteriorate.
The EU has reacted quickly and firmly condemning violence and calling for the release of all those imprisoned.
In EU Council conclusion on Belarus of 12 October 2020, the EU called on the authorities to release immediately and unconditionally all arbitrarily detained persons, including political prisoners and media workers.
On the ground, we work together with likeminded countries such as the United Kingdom Switzerland, and the United States on the deteriorating human rights situation in Belarus.
So far, the Belarusian authorities have responded to our joint diplomatic efforts with the expulsion and attempted intimidation of some of our colleagues.
We have made repeated requests for access to political prisoners and penitentiary facilities, so we could verify persisting reports of deplorable prison conditions and inhumane treatment of detainees and prisoners in Belarus.
We call on the authorities to accede to this request.
The European Union initiated an Urgent Debate and led the Resolution in the United Nations Human Rights Council in September.
EU Member States were at the forefront of the move within the OSCE to invoke the Moscow Mechanism to report on the human rights violations in Belarus and provide recommendations.
The resulting report and the recommendations should now be followed up. The EU stands ready to assist in the implementation of these recommendations.
The EU has acted firmly, and we have imposed sanctions against a total of 59 Belarusian officials, representing a wide range of institutions: from OMON [system of special police units] to KGB, from the Constitutional Court judges to officials of the Presidential Administration, including Aleksandr Lukashenko, those responsible for violence, repression and electoral fraud.
Belarus is our neighbour. And the EU is ready to step up our political engagement, sectoral cooperation and financial assistance to Belarus, provided its authorities respect principles of democracy, the rule of law and human rights and stop all repression and abuses of the human rights of persons engaged in the prodemocracy movement, independent media and representatives of the civil society.
There must be no impunity for violations of human rights such as those that we are witnessing in Belarus. We will continue to support the people of Belarus and their legitimate call for free and fair elections. We will continue to support civil society and independent media.
I look forward to a fruitful debate with constructive ideas on how to assist the political prisoner and ultimately ensure their release.
Civil society and human rights defenders play a key role in bringing the situation of political prisoners to the attention of the international community.
Our objective today is to contribute to the awareness raising on this matter and to identify potential follow-up actions.
And I thank again the representatives of the Belarusian civil society organisations for your commitment, courage and excellent work.
You are drivers of change and your work is crucial.
Thank you.